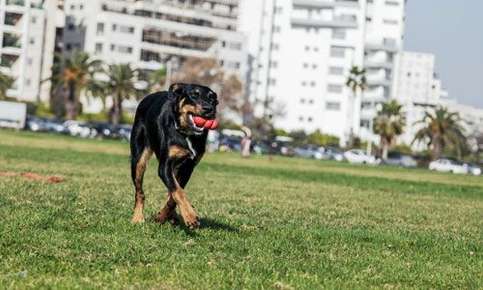 Exercise is the key to good health, whether you're a person or a pet. When your life is busy, it can be difficult enough to devote a half-hour to a work out, let alone find an extra hour to spend with your pet. Why not save a little time and exercise with your furry friend? These pet-friendly exercises will help you and your dog or cat strengthen your muscles, improve your heart health and keep off those extra pounds.
Fetch
By making a few simple changes, both you and your pet can benefit from this classic game. Usually, your dog gets all the exercise when the two of you play fetch. In this twist, you'll both benefit. As soon as you throw the ball or other object, jog in place or do a few lunges while you wait for your furry friend to return. Want to really get your heart pumping? Run alongside your pet as he or she races to retrieve a ball or Frisbee.
Some cats also enjoy a game of fetch. Although you'll probably play the game indoors with your cat, you can still jog in place or do a few exercises while your feline friend runs back and forth.
Walking and Running
If you only take your dog out for potty breaks, you won't enjoy nearly the same benefits of a long run or walk. Walking and running can help your puppy or young dog burn off excess energy and keep your older pet's joints and muscles limber.
Some cats also enjoy walks. If you would like to walk with your cat, you'll need to purchase a harness, rather than a collar. If your cat doesn't object to the harness, attach a lead and try a short walk. You don't even have to leave your yard for walks. Laps around the backyard can be a very effective way to get a little exercise.
Indoor Fishing
Many cats enjoy batting at dangling objects attached to toy fishing poles. There's no reason that you have to remain in one place while you play with your cat. Dangle the pole while you complete a circuit throughout your house or hold the pole in one hand while you exercise.
Agility Training
Agility training is a lot of fun for you and your dog. During agility classes, your dog slithers through tunnels, jumps over bars and navigates an entire obstacle course. You'll run along alongside your dog as he or she masters the course. If both you and your dog enjoy the activity, you can even enter agility competitions in your area. If you don't want to take an agility class or join a club, you can build your own obstacle course in your backyard.
Doga
Do you love yoga? Why not practice it with your dog? During doga sessions, you'll massage your pet's muscles and help him or perfect specially adapted yoga poses that you'll perform together. Doga offers the perfect opportunity to spend a little one-on-one time with your pet while you both get a little exercise. Doga isn't a good choice for all dogs. If you have a playful puppy or a high-energy dog, it might be a challenge to coax your pet into slowing down enough to participate. If Doga classes aren't available in your city, check out a few online videos.
Things to Think About Before You Exercise with Your Pet
Before you begin an exercise program with your pet, keep these things in mind:
Start slowly. If your pet isn't accustomed to long walks or runs, it will take a little while to build endurance.
Skip outdoor activities when it's very hot or humid. Schedule exercise time for the cooler evening or morning hours during the summer. If you notice that your pet is panting heavily, it's time to take a break or end the exercise session for the day.
Offer water regularly during the exercise session.
Tailor the exercise to the pet. For example, fetch may be a better game for a short-legged dachshund than long runs.
Exercising with your pet is an excellent way for both of you to stay in shape. If you have any concerns about your pet's health, or it's time for your furry friend's annual exam, give us a call to schedule an appointment.
Sources:
Health: 13 Fun Ways to Work Out with Your Dog
http://www.health.com/health/gallery/0,,20938047,00.html#dog-friendly-boot-camp
Animal Planet: 10 Fun Ways to Exercise with Your Dog
http://www.health.com/health/gallery/0,,20938047,00.html#dog-friendly-boot-camp
Prevention: 10 Ways to Exercise with Your Pet, 11/16/11
http://www.prevention.com/health/healthy-living/fun-ways-lose-weight-your-pet
New York Times: Bonding with Their Downward Facing Humans, 4/8/09
http://www.nytimes.com/2009/04/09/fashion/09fitness.html
Cesar's Way: Benefits of Dog Agility Training
https://www.cesarsway.com/dog-training/toys-and-play/benefits-of-dog-agility-training