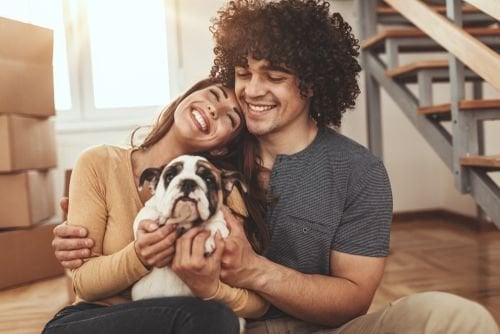 Will a Pet Be Joining Your Family in 2021?
Are you bringing home a new dog, cat, or other pet soon? Choosing the ideal time to introduce your pet to your family and reviewing care basics will make your pet's first weeks in your new home more enjoyable.
Select the Perfect Time
The holiday season can be a hectic time in your home so Christmas, Hannukah, Kwanzaa, or New Year's Eve might not be the best time to introduce a new pet. The noise and excitement of holiday celebrations may stress your pet, making the adjustment process more difficult. But now that the hustle and bustle of the holidays have come to an end, it can be a good time to finally bring your new addition to the family home. You can make your pet feel at home by:
Choosing a Calm Day for the Homecoming. Pick a quiet day when only your immediate family members will be home.
Finding a Special Place for Your Pet During Gatherings. Set up your pet's food and water bowls and other necessities in a quiet room if you'll be entertaining visitors soon after you bring your pet home. Introducing your pet to visitors when it hasn't even become accustomed to your family members can cause anxiety.
Giving a Gift Certificate Rather Than a Live Pet. If you're planning to give a family member an animal as a gift in the new year, consider wrapping a gift certificate to an animal shelter or reputable breeding facility instead. With a gift certificate, the person can choose the animal themselves and bring the pet home after the holidays when things are calmer.
Buy Everything Your Pet Needs In Advance
Creating a pet needs checklist will help you avoid last-minute trips to the store for food, litter, and other necessities. Add these items to your checklist:
Food. Read food labels and instructions carefully to ensure that you're choosing the best type of food for your pet's stage of life. Foods intended for kittens and puppies have the extra calories that growing animals need, while senior foods contain fewer calories and help older animals control their weight.
Cages and Aquariums. Make sure cages or aquariums provide plenty of room to move, explore, or swim.
Crates. A crate serves as your dog's private den, provides a quiet place to rest, and can help you house train your new pet.
Dishes and Feeders. Stay away from cheap plastic bowls that can trap bacteria. Instead, choose stainless steel or glass dishes. Select chew-proof water bottles that hang easily on the side of the cage if you'll be bringing a small animal home.
Litter Box and Litter. The litter box you choose should be big enough to allow your cat to turn around easily. Scoopable litter makes it simple to remove liquid and solid waste from the box and cuts down on cleaning, although you should still clean the litter box at least once a week.
Collar, Harness, and Leash. If your pet will be going outside, you'll need to buy a collar and harness or leash. Harnesses are the best options for smaller dogs and cats.
Miscellaneous Supplies. You'll also want to buy a selection of brushes, combs, toys, beds, treats, identification tags, and other pet supplies.
Schedule a Visit with the Veterinarian
Make an appointment with a veterinarian sometime in the first few weeks after you bring your pet home. During the visit your pet's veterinarian will:
Perform a thorough examination and diagnose any illnesses or chronic health conditions
Provide immunizations that will help your pet stay healthy
Recommend a flea and tick prevention program if needed
Check your pet's weight and recommend specific foods if your new friend is overweight or has a health problem
During the visit, you can also have your pet microchipped and make an appointment for spaying and neutering. Microchips are rice-sized chips that contain a number linked to your contact information. If your pet is ever lost, an animal shelter or veterinary office can scan the chip and quickly identify your furry friend.
Spaying and neutering are types of surgeries that prevent males and females from reproducing. The surgeries help reduce the number of unwanted animals, protect your pets from certain types of cancer, prevent spraying in male cats, and may decrease aggressive behavior or roaming in male animals. On average, spayed and neutered dogs live one to three years longer, while cats live three to five years longer, according to Humane Society International.
Will a new pet be joining your home in the new year? Call our office to schedule your new arrival's appointment.
Sources:
Humane Society International: Why Spay/Neuter is Important
https://www.hsi.org/news-media/why_spayneuter_important/
Dog Time: Bringing Home Your New Dog, 5/14/20