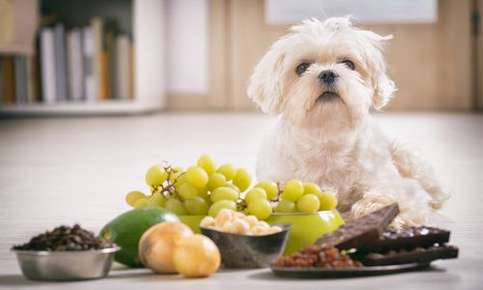 Preventing an Accidental Pet Poisoning
Pets are naturally curious creatures. They can't resist toppling over the trash can or rooting through your backpack to search for tasty treats. The habit can lead to illness or even death if your cat or dog consumes poisonous or toxic food or chemicals. Fortunately, keeping your pet safe from accidental poisoning can be as simple as following these steps.
Place Medication in a Secure Location
Put all medications in a safe, secure location to prevent accidental poisonings in both kids and pets. Even over-the-counter medications can cause serious health issues for animals. Taking acetaminophen or ibuprofen may help your aches and pains, but the medications can cause kidney or liver failure in cats and dogs.
The Pet Poison Helpline reports that it receives the highest number of calls from pet owners regarding antidepressant ingestion, which can cause tremors, seizures, lethargy, and incoordination in animals.
Keep These Foods Away from Your Pets
The foods that you enjoy aren't always safe for animals. These five foods can cause illness in pets:
Onions and Garlic. Consuming foods with fresh, dried or powdered onions, garlic, leek, scallions, chives or shallots can damage your pet's red blood cells, affecting their ability to transport oxygen efficiently. Prompt treatment after consuming these foods is crucial and may help your pet avoid organ failure or damage or death.
Chocolate. Chocolate contains caffeine and theobromine, substances that are toxic to pets. Dark and baking chocolate have the highest levels of theobromine.
Grapes and Raisins. Although you may enjoy snacking on grapes and raisins, the foods can cause kidney failure and death in pets.
Beverages That Contain Caffeine. Coffee, tea, soda, and energy drinks aren't safe for pets and may cause vomiting, elevated heart rate, high blood pressure or death. Teabags, loose tea, coffee grounds, and coffee beans are particularly dangerous, as they contain high concentrations of caffeine.
Sugar-Free Foods That Contain Xylitol. Xylitol, a sugar alcohol used to flavor sugar-free gums, mints, toothpaste, vitamins, baked goods, and other products, can be deadly to pets. Keep these products out of the reach of your pets.
Choose Safe Plants
Even a small bite of a plant can make your pet ill or even cause death in some cases. Before you buy an indoor plant or add a new plant to your landscape, make sure it won't harm your pet. The Pet Poison Helpline lists these 10 plants as the most poisonous to pets:
Autumn Crocus
Azalea
Cyclamen
Kalanchoe
Some Varieties of Lilies
Oleander
Dieffenbachia
Daffodils
Hyacinths
Lily of the Valley
Sago Palm
Tulips
Use Pet-Safe Antifreeze
Pets like the sweet taste of antifreeze, but consuming even a small amount can cause death. Pet-safe antifreeze offers a better solution. Ethylene glycol, the deadly ingredient in antifreeze, can also be found in ink (both pen and printer ink), snow globes, eye masks and some types of paints. If these items spill, wipe them up immediately to prevent poisoning.
Find a Safe Place to Store Cleaning and Household Products
Consuming cleaners and other household products, including laundry detergent pods, pest control, and cleaning products, skincare items, sunscreen, ointments, fertilizers, and paints and stains can sicken your pet. Keep all products, even those labeled "natural," in a closed, secure cabinet, and put away the products as soon as you've finished using them.
When to Call the Veterinarian
Contact the veterinarian immediately if your pet consumes a toxic or poisonous substance. Unfortunately, pets don't always eat dangerous foods or products in your presence. If your pet develops any of these signs and symptoms, poisoning may have occurred:
Vomiting
Diarrhea
Trouble Breathing
Racing Heartbeat
Excessive Thirst
Frequent Urination
Weakness
Seizures
Collapse
Muscle Tremors
Pale Gums
Take your pet to the veterinarian immediately if you notice any of these signs or symptoms. The sooner your pet receives treatment, the better the chances of a full recovery.
Do you have any questions about potential poisons or your pet's health? We're here to help. Give us to call to share your concerns or schedule a visit for your pet.
Sources:
Pet Poison Helpline: Keeping Your Pets Safe from Common Household Items
American Humane: Pets & Poisons, 8/25/16
ASPCA: Digging Deeper: Getting the Facts on the Dangers of Antifreeze and Your Pets, 2/27/18